How to Stay Safe Black Friday & Cyber Monday Shopping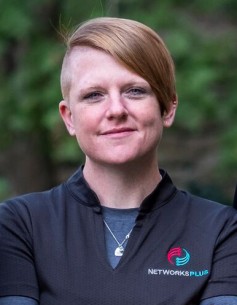 By: Katy Schoening, Networks Plus IT Technician
The holiday shopping season is officially upon us! If you're anything like me, you'd rather sit in the comfort of your own home, sipping coffee in your jammies, and shop online rather than battle the masses at the mall or outlet stores. So, in interest of keeping you safe from cyber criminals, here are three tips to keep your personal information and finances protected while you hunt down that perfect gift for all your loved ones! (Or for that one weird Uncle Paul whom you haven't seen in years, but your Mom guilt trips you into buying him something because "he's still family").
Cyber Criminals commonly use crazy-low merchandise prices on their websites to lure in their victims. As the saying goes, "if it seems too good to be true, it probably is." So, keep an eye out and avoid those types of websites. Try to stick with websites you are familiar with.
During the purchasing process, check the website address and make sure it's using HTTPS (Hyper Text Transfer Protocol Secure). If not, it's a good idea to CTRL+ALT+DEL and abort mission before you hit that confirmation button. It is ALWAYS best to purchase from a secure website to better protect yourself.
If you do happen to be out and about, maybe to grab another cup of coffee, it's best NOT to use public WiFi for online purchases or checking bank account information. It tends to be a prime target for hackers and as the technology world advances, so do cyber criminals.
Holiday shopping is always fun. However, one wrong cyber-step can really throw a wrench into your Christmas spirit, so please be safe and shop smart!
*NOTE: Please don't forget to shop local first! Many of your favorite local stores also have an online presence and when dollars stay local, we all win! And remember - Saturday, November 24th is Small Business Saturday. Please plan to support your local businesses!
---