Important BVtv Information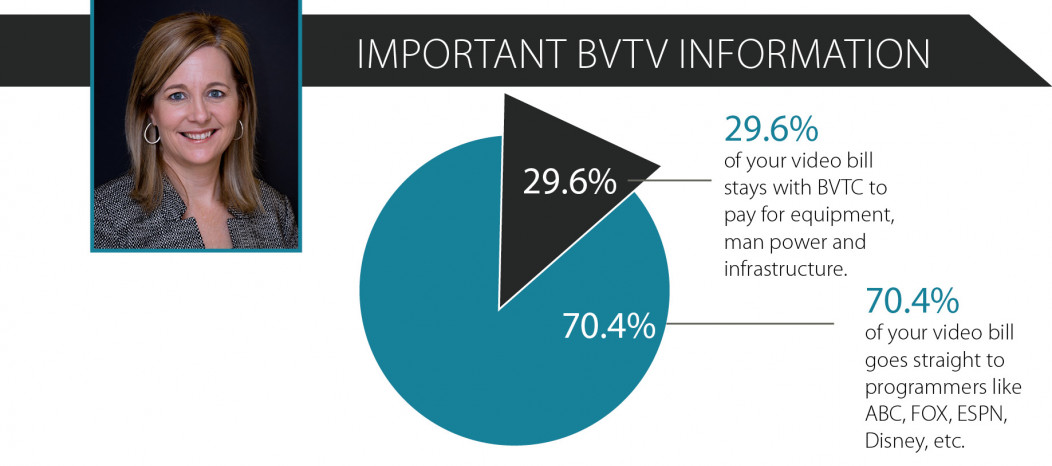 Attention Loyal BVtv Customer,
Blue Valley is once again faced with the harsh reality of passing along a video rate increase to you. Due to the continued rise in programming costs, the subscription rate for our Basic television package will increase by $12 per month effective Mar. 1, 2019. Additionally, the retransmission fee will also increase $1.45 per month.
BVTC regrets the need to increase rates; however, as illustrated in the adjacent chart, video network programming costs continue to grow at an alarming rate. These increases are as frustrating for us as they are for you. However, when programmers like ESPN, ABC, NBC, CBS, Disney, etc., continue to raise their prices, we either comply or are forced to drop their channels from our lineups. Many of these programmers own multiple channels, so dropping one provider could mean a drop of 12 or more channels. We have worked hard to keep our prices as low as possible, but the harsh reality is some of the programming costs have increased more than 415%!! These increases have taken a toll on the video business model.
As your local cooperative, we are dedicated to providing you with a high-quality video product. In order to continue to do that, we must raise prices to cover rising costs. Our mission has always been to provide you with the highest quality, most cost-effective services possible. However, that does not mean we can provide video services for free or below our cost.
As a member-owned cooperative, you are at the forefront of each decision we make and we understand your frustrations. While we dislike the rising cost of programming, it is important to note we are not the only provider experiencing this. After a brief low-price introductory period, many satellite subscribers find themselves paying higher rates over the course of a lengthy contract; oftentimes with hidden costs and fees associated with those contracts. Truly no provider is immune to these increased programming costs - even companies hundreds of times larger than BVTC are struggling with the increased cost of programming.
As you can see in the chart above, most of your TV bill is going directly to the programmers.  In fact, very little actually stays with BVTC. The portion we keep is needed to cover the cost of maintenance of the video network, equipment upgrades, and to pay operating expenses.
We understand why your frustration is oftentimes directed at us since we are the one to whom you pay your bill. Please know that we understand rate increases can be a bitter pill to swallow. The truth is, we aren't just employees, we are also customers. While we work very hard to keep your prices competitive, we get just as discouraged with rising costs as you do.
While we wish we had better news to share, we do feel strongly on being transparent and honest about the reasons driving our decisions. We encourage you to watch our informational videos. We also ask you to contact us directly if you have questions. We are available by phone at 877-876-1228 or here. Our staff is standing behind you and is committed to helping you find the best video solution for your family.
Thank you for your continued patronage!
Candace Wright
CEO/General Manager
---