The Rising Cost of Cable TV – The Story Behind the Story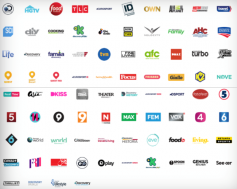 By: Jerry Horton, Technology Director
Cable TV – it first came on the scene in the late 1940's and, by the 1980's, changed America's viewing habits. No longer were the Big Four Networks (NBC, ABC, CBS, and Fox) on top of the entertainment heap – Americans could (for a monthly price) watch channels that were dedicated to movies, news, sports, or even documentaries. The viewing public suddenly had their choice of a wide variety of programming and content. This trend continued with the creation of new Superstation networks, channels that were dedicated to family and children's programming, and even channels that were dedicated to travel and cooking! It seemed that our entertainment needs were being met and even exceeded. However, there is a dark side to cable TV that soon became apparent.
The cost of pay TV rose fairly steadily for the last 20 years at a national average 5.8% increase per year. Around 2010, this trend changed radically due to two things: retransmission fees charged by local affiliates of the national networks and dramatic increases in programming costs from content providers such as Disney Networks, AMC, Discovery, and Viacom. These changes left small cable providers and their customers stuck between a hammer and an anvil.
To illustrate the effect of the rising cost of programming, let's review a few Blue Valley statistics:
* For every $1 on a cable bill, $.69 comes off of the top to pay for programming costs from cable content providers and local affiliates of the Big Four. Local content alone accounts for about $.15, or about 22% of the total programming cost.
* Cable content providers have increased their rates 24% in the last five years (2014 to 2018). Between 2017 and 2018 alone, costs rose by nearly $190,000.
* The cost to retransmit local channels has risen 260% in the last five years (2014 to 2018).
* Content costs are assessed by the total number of possible subscribers, as opposed to actual number of viewers of that particular station or channel.
For many years, the Big Four national networks were available freely over the airwaves – all a customer needed to get them was an aerial antenna (or even a set of 'rabbit ear' antennas on the television) and a good enough signal. Then, in 1965, the FCC mandated that cable TV providers 'must carry' local broadcast stations which would be available over the airwaves in the cable providers' geographic area. However, in 1992, the Cable Television Consumer Protection and Competition Act allowed broadcasters and their affiliates to receive compensation from cable providers for retransmitting their programming. Needless to say, this has had a significant impact, especially on small cable providers and their consumers. While the cost was fairly low for many years, local affiliates have demanded dramatic rate increases over the last five years – a 260% increase since 2014. Since small cable providers are required by law to carry these channels as a part of their cable lineup, these increases pass directly through to the subscriber.
As shocking as the costs for local affiliate might be, cable network content providers have followed a similar pattern over the last several years. The consolidation of content provider networks and the strong success of Over-The-Top providers such as Netflix and Amazon Prime have only served to make pricing less stable than ever. In recent years, mergers and acquisitions of content providers have resulted in a few major providers owning the rights to some of the most popular content. For example, Disney Networks owns all of the Disney related channels, all of the ESPN channels, A&E, History, and channels related to ABC networks.
Attached is a graphic showing the channels owned by Discovery Networks, a medium-sized provider.
Content providers negotiate contract pricing with cable companies based on all of the content they own and require cable companies to place not only the most popular channels, but a number of their other channels into the cable company's basic lineups. This not only increases the cost, but prevents a cable company from offering 'ala carte' or more limited offerings in any meaningful way. More importantly, cable companies are required to pay for all of the channels that a content provider owns, regardless of whether the channel is being viewed. For instance, if you have a basic cable package with Blue Valley, you have to pay for all of the ESPN channels, History, AMC, Animal Planet, Hallmark, and many others, regardless of whether you ever watch them.
These rising costs, as well as the contractual obligations, are not unique to Blue Valley; all other cable providers, large and small, are faced with the same challenges to some degree. Satellite providers are not immune, either. The content providers are raising costs for all of the companies who deliver their content – cable, satellite, and even streaming providers are all receiving a higher content bill.
At Blue Valley Tele-communications, we recognize these challenges. We strive to provide our patrons the highest quality products at a fair price. The continuing pressure from content providers and local affiliates have made this job increasingly difficult. We do offer a 'Skinny' TV package for those who desire the local channels and a limited channel lineup. We are also currently researching potential alternatives to traditional cable television. We hope to offer these alternatives soon, providing they can meet our stringent requirements for quality and value for our customers.
---