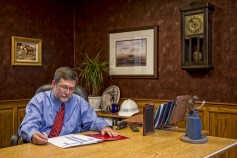 Last month, I received an invitation I couldn't refuse. Even though my schedule was already full, I made the decision to squeeze in one more trip. Through all the challenges, this trip turned out to be one of the best professional decisions I have made. Before I dive into this story, I want to give you the background on how I landed this very special invitation.
Earlier this year I was appointed to the Team Kansas board of directors, which is comprised of an incredible group of 20 business leaders from across the state.  We meet in various places throughout the state, and occasionally in other areas of the country, as we work to recruit new businesses to Kansas.     
It was through this appointment, I met an east coast mover and shaker, Joe Suppers. Joe is one of those people who dedicates himself to making things happen. He and I instantly hit it off and have become fast friends through this happenstance encounter in New Jersey.
This brings me to the invitation I couldn't refuse. Joe invited me to Salinas, to attend an elite event hosted by Forbes Magazine. The Forbes AgTech Summit was by invitation only and provided an opportunity to its attendees to meet professionals in the agriculture and technology industries from all across the world. However, the summit fell right before a speaking engagement I had previously committed to in Topeka with Washburn University. After much thought, I decided with the right plan, I could attend both events. So that is exactly what I did!
My trip began with a flight to the west coast. I arrived the next morning just in time to catch a screening of 'Just Eat it' at the Maya Cinemas in Salinas. This was an incredible look into retails' waste of food produced in our country. If you get the chance, I highly recommend you take the time to check out this movie! 
Following lunch, I attended a variety of tours focused on agriculture and technology. We started at Hartnell College and were introduced to some of the most innovative leaders in the ag industry. Plant Tape, a company originating in Spain, has product trial currently underway in North America. Plant Tape features an automated transplanting system designed to benefit agricultural production worldwide.
The second stop was at the Taylor Farms Processing Plant. Taylor Farms partners with over 100 family growers across the country. What impressed me most, was how clean this facility was and the general care each worker demonstrated toward the produce. This was one of the most sanitary processing environments I've ever seen! I also thought it was interesting all their produce is harvested at night and processed the next day. Their plant operates 24/7 and generates approximately one million pounds of salad each day.
The last stop on the tour was Spreckels Crossing, an affordable housing option for Tanimura and Antle's seasonal workforce. This company offers high-end, dormitory-style apartments at affordable rates (even by Midwest standards). The majority of seasonal employees at Tanimura and Antle's are migrant workers. Having affordable housing near their job site is crucial to their reliability and productivity. My takeaway from this stop was that ag-based values are not unique to Kansas. To me, that was extremely refreshing!
I finished my day by getting into my rental car and driving over a hundred miles back to the airport. I arrived early the next morning in Kansas City with just enough time to make it to my speaking commitment in Topeka. To say this was an exhausting trip is putting it mildly; but as I mentioned before, it was well worth my time and energy.
For those of you who don't know me well, this might surprise you – I don't really enjoy traveling. I prefer to be home at night, spending time with my wife, and our furry companions. Why do I make these trips? The answer is simple. It's because of the incredible people I get to meet and network with. People like Carlos Prado, the owner of a melon growing operation from Brazil; Anat Bujanover, who works for the Israeli government. Conversing with these professionals, along with countless others, provides me insight into the needs of the industry all around the world.
Being able to see outside our borders and boundaries affords us the opportunity to improve our service and product offerings. Not to mention, these connections are priceless when building a network of experts to collaborate with and seek input and feedback from. These leaders, along with my friend Joe Suppers, are all an integral part of future opportunities – for us and them. I suppose we can look at it as our net worth is really only as strong as our network, and I am working hard to strengthen ours every day. 
---