BVTC Hosts Local HS Junior on Trip to DC
June 14, 2017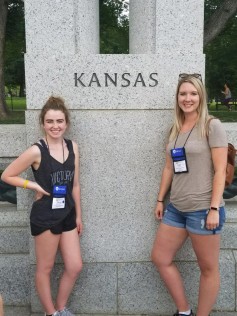 Douglas Selected for Youth Tour
Each year Blue Valley Tele-Communications (BVTC) selects one student from its service area for an all-expenses paid trip to Washington D.C. The student represents the company during site seeing activities and educational sessions. This year, Taylor Douglas, Marysville, was selected. Douglas traveled to the Nation's capital June 3-7, along with over 100 other rural students, to learn about rural telephony. Applicants were required to submit an essay entitled, 'Social Media: What I want the world to know about my generation."
Douglas spoke of how technology has changed over the years. Citing examples of how her grandparents shared pictures, to how she is connected to people all over the world.
"My generation has been given so many opportunities to communicate with so many different people in so many different ways." Douglas explained, "While the older generation may feel like they are being ignored by their children, what they don't realize is that by using these technologies we are better preparing for our big step into the real world." Douglas explained that the digital world will impact everyone's lives soon, if it hasn't already. She added, "By using social media we are able to network and build a working relationship with future employers. We are able to show what we bring to the table and what makes us an important future employee."
Douglas, daughter of Lori and the late Terry Douglas, will be a senior at Marysville High School. She is a member of Matmaids, Kays, and FCCLA. She is also on the Marysville Swim Team.   
*Pictured is Douglas and her chaperone, Emily Ford, BVTC video production tech
---