BVTC Opens Community Building
January 5, 2018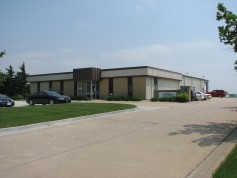 December 18, 2017 - Home, Kan. - Blue Valley Tele-Communications (BVTC) is excited to announce the completion of its newly remodeled community building in Home, Kan.
The office building at 1557 Pony Express Hwy., Home, Kan. was vacated in 2007 when the company moved its headquarters to a brand-new facility next door. For the past 10 years, BVTC provided a small space for meetings and other gatherings at its headquarters. Unfortunately, for security reasons, the BV Community Room could only be used during non-office hours – making it difficult for some groups to schedule events.   
The board commented that it has seen the need for meeting space grow exponentially over the past several years. "We have considered several options in how we could contribute to a solution," commented Terry Force, board president. "We feel that our old building is the most logical choice in offering a better space with more flexibility."
At a board meeting earlier this fall, the board voted to remodel the old building, transforming it into a community building. The BV Community Building features a large meeting room, a small meeting room, and a full kitchen with stove/oven, refrigerator, and microwave. The facility is also equipped with a large screen TV, tables, chairs, and a storm shelter.   
The space can be rented for $25 by calling 877-876-1228.  
---