March 5, 2020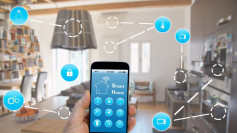 BVT Demonstrates Smart Home Technology
Home, Kan. – Friday, February 27, 2020 – Beginning March 6, Blue Valley Technologies (BVT) will conduct smart room tours from 1:00 – 4:00 the first Friday of each month. The public is invited to the BVT Community Building located at 1557 Pony Express Highway, Home, Kan. for a hands-on demonstration.
Smart homes are helping people of all ages maximize home security, control appliances remotely, and even support aging in place. The tour features three rooms with a variety of smart devices, including lighting, television, security, and more. Tours and demonstrations will be conducted every 30 minutes.
In addition, staff will be on site to answer any questions regarding streaming services, devices, and recommended internet speeds.
For questions or to schedule an appointment for a private tour, please contact 877-876-1228 or info@bluevalley.net.
---