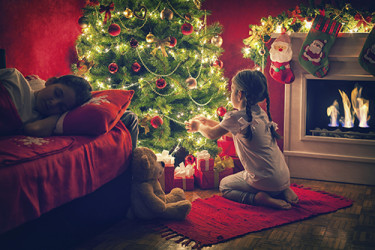 About Blue Valley's Annual Giving Tree
The BVT Giving Tree has been helping local children and families in Marshall, Nemaha, Pottawatomie, and Washington counties for the past 27 years. Beginning in November each year, donors can select a card at the BVT Home Office or at a partnering business. Cards detail a local child's needs/wishes or basic needs for a family (such as pantry items, toiletries, etc.). 
In 2022, our generous donors helped 141 families and 398 children through the BVT Giving Tree program. We couldn't make this happen without our communities and customers rallying around this mission every year. Thank you!
Applications to be a Giving Tree recipient are available in September and due back in October each year. Please contact us at 877.876.1228 if you would like to fill out an application.
Want to Donate? This is How it Works:
Donors choose a card with the child's needs/wishes.
Shop for the child(ren) with the information included in your card. (These are just suggestions, not requirements.)
Return your gifts with the card and code attached to a participating business or BVT. 
For more details, contact Colleen Voet at 877-876-1228 or email givingtree@bluevalleyinc.net.
BVT Giving Tree Locations
Axtell
Beattie
Blue Rapids
First Commerce Bank of Blue Rapids
Riverside Market
Centralia
United States Post Office
Frankfort
Home
Linn
Marysville
Citizens State Bank
Community Memorial Healthcare
First Commerce Bank
Sunflower Credit Union
United Bank & Trust
Onaga
Community Healthcare System
Vermillion
Westmoreland
Farmers State Bank of Westmoreland
---